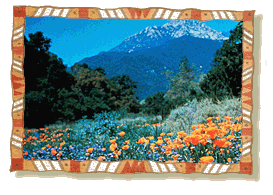 There is a city, a land, a state of mind, known as Santa Barbara. Between its towering mountains and gently restless sea, there is nothing like it anywhere.
Justifiably famous for its historic architecture, botanical gardens, terrazzo walkways and palm-lined white sandy beaches, it is one of the most stunning coastal areas in Southern California.

The year-round Mediterranean climate and serenity of Santa Barbara has captivated people for 7000 years, from the Chumash Indians and Spanish settles to the many celebrities who live here today. (Temperatures average 65 to 75 degrees F.)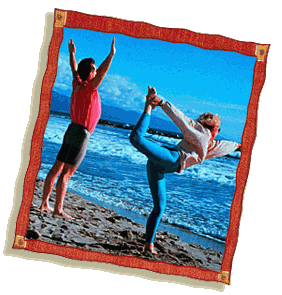 Start your mornings with either SpaFari Yoga/meditation, or a Pilates class; followed by an invigorating Day Hike (we choose the appropriate length of hike and pace for your level of fitness, and generally split the group into two levels) in the mountains:

Explore the many thousand acres of state and national parks with miles of vigorous hiking trails, Indian caves, and cascading waterfalls. Trek 4,000 feet up the immense volcanic cliff paths of the Santa Ynez Mountains overlooking the remote Channel Islands. Hike or jog on miles-long sandy beaches adjacent to uninterrupted sand dunes. Cool off in the ocean and swim in deep fresh water pools of fern lined grottos.

Thursday afternoon we include a Yoga class that is followed by Meditation in a mountain temple while listening to the Buddhist nuns chanting.
Additional outside activities include: a Bike trip along a picturesque coastal path; options to Sea Kayak, or a Sail at sunset when the earth, sky and water are bathed in red ... watching for dolphins and migrating gray whales.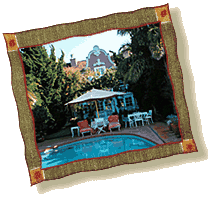 After an active day, melt into the hands of our expert massage therapists (on Monday, Wednesday and Friday). Additional massages are available for an additional fee of $100.

Side-trips may include the Santa Barbara Mission, the Natural History Museum, and an afternoon stroll through the Botanical Gardens. And ... Santa Barbara's State Street is a shopper's paradise!


We also offer Health & Wellness Education plus Native Indian Culture.

Our charming Santa Barbara Inn includes a swimming pool and is steps from the beach. Healthy Dinners are enjoyed in a variety of gourmet organic restaurants in Santa Barbara.
TYPICAL SPAFARI in SANTA BARBARA, DAILY SCHEDULE
6:30 Wake up.
7:15 Lemon cleansing drink.
7:30 Yoga/Stretch Class. Meditation. or Pilates Class
8:30 Healthy Breakfast (fruit, cereal, eggs).
9:00 Exhilarating, scenic, challenging Day Hike.
*Distance and pace is geared toward each individual's fitness level and ability.
(Less miles for Mature-Active Trips)
12:30 Healthy Pack Lunch on trail
2:30-5:00 Return to Accommodations
4:00-6:00 Optional Massages
Optional activities: Siesta/Free Time; Swimming, Walk the beach, Shopping, Bike Riding, Sea Kayaking, sunset Sailing
5:00 Thursday: Yoga class and Meditation in a mountain temple
7:30-8:00 Organic Healthy Dinners are enjoyed in a variety of Santa Barbara restaurants
8:30 Evening activities can include a Health & Wellness talk, Cultural Event and Free Time
SANTA BARBARA, CALIFORNIA
Sunday-Saturday 7-Day weeks offered in March, April & May.
Santa Barbara Inn: $4,500 per person double occupancy. $1,750 single occupancy.
Other Choice Accommodations range in price from Unique Comfortable to Deluxe and Luxury.
Custom and Private Santa Barbara SpaFari's available at ANYTIME of the year.
Please Email for details: Hike@SpaFari.com