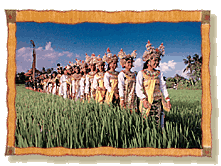 The enchanting emerald green island of Bali is rich in succulent colors, sweet hibiscus, cascading waterfalls, and opulent dawns. Our in-depth cultural explorations of timeless traditions will include the classic crafts of paintings, weavings, batiking, wood and stone carvings, and silver jewelry. These arts, central to daily life, are expressed in a colorful throng of festivals and temple ceremonies
SpaFari Adventures In Bali provides our guests an in-depth discovery of this exotic island, our visits to off-the-beaten-track festivals, ancient mossy temples, and sometimes to a wedding ceremony. We will visit water palaces, museums, galleries, shops, arts and crafts, and at each of our excellent restaurants you will savor delicious gourmet meals, perfectly healthy with locally grown salads, fruits and vegetables, and featuring the "fresh-catch of the day." We explore splendored trails that wind through tiny villages and tiered rice fields, climbing high to majestic mountain ranges that look down upon incredibly clear blue lakes. Many of our treks are known only to the locals, as we go into a typical Balinese homes, shops and little factories of Balinese artisans, where they loom and dye rich batike silks. There are many beautiful and priceless objects to buy in Bali - and inexpensive treasures. The shopping can become contagious! Constantly there will be amazing photo opportunities. Balmy days and star-lit evenings provide an exquisite backdrop for our exploration into the heart of the exquisite Balinese culture.
We will attend shadow puppet plays and visit some of Indonesia's foremost performing artists in their dazzling dance and gamelan orchestra performances. Our unique fitness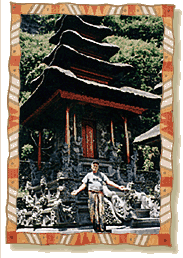 adventure of Island includes visits to local festivals and craftsmen in their homes - an "insider's" perspective of how art is a part of everyday life in this region of the world. Our flexible itinerary is designed to include these whenever possible.
We will visit the sacred temple of Besakih and other mossy temples. Hindu and Buddhist religions are beautifully woven into every aspect of daily life, with small temples found in almost every rice paddy, lake, mountain top and home. A Balinese spiritual experience begins each day with flower offerings to the river wearing traditional sarongs.
Other typical mornings might include yoga and meditation, followed by exciting daily hikes, through rice fields, up lush winding mountain trails and the summit of Mount Butur (5,600 feet), the mother volcano of Ubud and around lakes and villages. We will swim in a crystal clear river and float down beside waterfalls and springs to our lunch destination. We will also be swimming or snorkeling, and sailing in warm tropical oceanic waters.
<![if !vml]>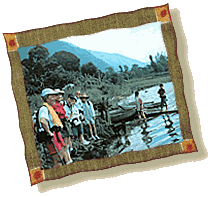 <![endif]> Choose to luxuriate in a truly exotic and exclusive private home and sanctuary with abundant tropical gardens, waterfalls, swimming pool, yoga room and splendid one-of-a-kind accommodations with breathtaking views.
Or combine your stay with accommodations that include our lush hotel near Ubud with gardens, pools and spa. Other options include a beachside haven with private gardens that offer serenity and tropical beauty.
At each location you will be massaged and bathed in flower petals and delicate fragrances with strong-but-gentle hands.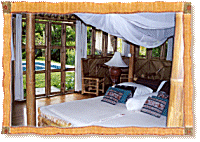 Enjoy healthy organic cuisine with the exotic Indonesian flavors and the vast array of sumptuous fruits, awaiting your willing palate.

"BALI what a feast for body & soul! The tranquil panorama, the terrific people, the spiritual culture: all conspired to produce the best vacation I've ever had.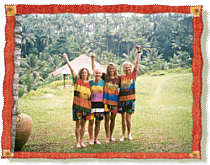 We hiked through the lush landscapes, became skilled at new yoga poses, sated ourselves on fresh foods and juices, unwound during relaxing massages, visited colorful festivals and even found time for some great shopping. Our accommodations conjoined the best of privacy and comfort.
Bali was the perfect place to put Kristina Hurrell's advice to the test "letting go and enjoying the moment." It passed with flying colors."
Liesbeth Stoeffler
Graphics Designer
New York City
BALI, INDONESIA
Choice Accommodations: After an inspiring day of hiking, cultural explorations and spa, recount your tales over a healthy gourmet meal. Then, slumber in a range of SpaFari choice accommodations, from garden or beach hotels to exotic private sanctuaries.

Scheduled and Custom Itineraries with pricing options based on Single or Double occupancy in Unique Comfortable, Deluxe and Luxury Accommodations.
SpaFari in Bali adventures offered during March-April-May & September • 8-14 Days

Please Email for details: Hike@SpaFari.com Tel: (970) 452-9339