Are you looking for a unique Healthy Hiking Spa Vacation with an emphasis on Rejuvenation?
Join us as we Travel the Worlds most Scenic Natural Landscapes!

"take a slice of paradise, some good heart-pumping hikes, a teaspoon of Yoga and meditation, healthy food and some inspiration . . .
you get the perfect blend of fitness and adventure!"
Join us in glorious Aspen, Colorado

Picture yourself hiking in the grandeur of the
Colorado Rockies - peaks sprinkled with snow, crystal
clear rivers, plunging waterfalls and pure
clean mountain air.

Hike through verdant alpine meadows abundant
with wildflowers and towering forests alive with the
smell of blue spruce and pine. Challenge yourself
on more rugged all-day hikes up to pristine mountain
lakes and breathtaking "top of the Continental Divide"
views. We select a variety of trails for the varying
fitness levels of our group participants.

Our delicious healthy breakfasts are served
family style in the hotel dining room. Evenings,
our healthy dinners are enjoyed in a variety of
Aspen's restaurants. Nutritious lunches are
thoughtfully prepared by our private chef and packed specifically for our daily activities. Your SpaFari adventure also includes yoga classes.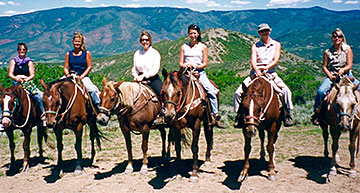 Optional activities are an exciting three-hour whitewater rafting trip, a bike ride along a beautiful river, or a wilderness horseback ride.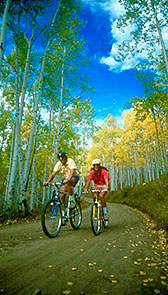 We tier-price your trip cost, depending on your
choice of accommodations, range from: Deluxe 5-Star Aspen Hotel; a Luxury 4-Star Boutique Hotel;
a Comfortable 3-Star Aspen Mountain Chalet.
These accommodations are in the heart of Aspen, and include pool, jacuzzi and fitness center. 
Our other accommodation option is a remote
Retreat Ranch in the heart of the Rocky Mountain wilderness, surrounded by rivers, and ponds - here we include, daily breathtaking wilderness hikes, stretch classes, healthy meals, and optional massages.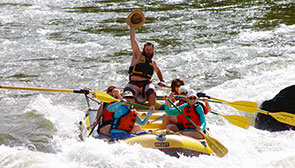 After an invigorating day on the trails, book a therapeutic massage with one of our top-notch practitioners. Evenings: participate in healthy lifestyle talks with SpaFari, an evening at the Snowmass Rodeo, and Friday night music. Combine all that Aspen has to offer with its music festival, ballet, theater and culture and you'll see why this little Victorian town of the 1880's in considered a premier destination resort.

Should you wish to make an appointment in Aspen with Kristina's husband, Rob Krakovitz MD who specializes in Alternative Medicine, Natural & Anti-Aging Therapies, please call (970)-927-4394.
---
7 Day SpaFari in Aspen adventures are offered in June, July, August and September

---