Read what a previous adventurer says.

Exclusive 5* Luxury-Tented Camps and Lodges plus an African Island Retreat.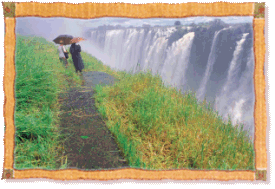 An incredible SpaFari adventure that takes us back-in-time to elegant Game Rich Safari days - seeing the Big Five . . . plus many, more! Jeep safaris early morning, afternoon and night when the animals are most active. Our Guided Hikes are in safe bush, lakeside, hilly island wilderness areas, plus a walk around the rim of Victoria Falls. We include Game Viewing Boat Cruises on the Zambezi and exciting Cultural Explorations to villages and local tribes. Stay in Luxury-Tented Camps , a Lodge at Victoria Falls, and a Unique African Island Retreat by two mighty African rivers, Chobe and Zambezi.

Botswana is an African country which is wild, spacious, distinctly different, full of variety and literally marvelous!
Firstly, marvel at the world-class attraction of the Okavango Delta offering some unique wildlife viewing. The second marvel is the scale of the wildlife reserves around the Chobe, Linyanti and Kwando rivers. Then marvel at the almost spiritual experience of visiting the vast salt pans of the Kalahari.

Overall, there is the wildlife. Whether a visit to Botswana is your first or 20th safari, an amazing adventure is guaranteed in this very different environment. Whilst all the Big 5 (buffalo, elephant, leopard, lion and rhino) are evident in various parts of the country, specifically Botswana is well-known for wild dogs, which are rare elsewhere, and other smaller yet delectable species like the entertaining meerkats, and tiny painted reed frogs and barking geckos. The birdlife, especially in the Delta is truly amazing.
Botswana also has its own migration of wildebeeste and zebra, smaller in scale than that of the Serengeti, but still very dramatic. The movement is less easily defined but generally from November animals move south west towards the Kalahari and return north in April/May.

Why do we go to Botswana? Probably, it is because there is the feeling that you are within an endless and pristine wilderness, almost devoid of human imprint. For those of us who are city-dwellers, space can be a premium, and in Botswana there is plenty of space. Animals wander freely across vast reserves which are measured in thousands of kilometres rather than in hectares.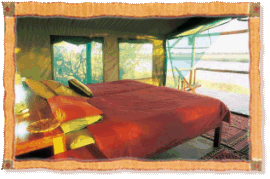 There is also rich history, as revealed in the marvelous Bushmen paintings at Tsodoli, and in the magic that seems to surround those hills. The Bushmen and their culture are widespread and never more evident than on the Makgadikgadi Plains and the area surrounding probably the most authentic of all wildlife camps and lodges, the remarkable Jack's Camp. Relics of the Stone Age mingle with ancient and wonderfully grotesque baobab trees of more than three thousand years old.
It is a land-locked country bordered by South Africa, Namibia and Zimbabwe, and touches Zambia in the Caprivi Strip, just west of the Victoria Falls.

Choice Accommodations. After an inspiring day of game viewing, hiking or cultural viewing, recount your tales over a gourmet feast and glass of wine or beer. Then, slumber in a range of accommodations that match your chosen adventure - from luxury camps and upscale lodges to rustic tents set deep in the wild.
Please email us for details: Hike@SpaFari.com