Are you looking for a unique Healthy Hiking Spa Vacation with an emphasis on Rejuvenation?
Join us as we Travel the Worlds most Scenic Natural Landscapes!

"take a slice of paradise, some good heart-pumping hikes, a teaspoon of Yoga and meditation, healthy food and some inspiration . . .
you get the perfect blend of fitness and adventure!"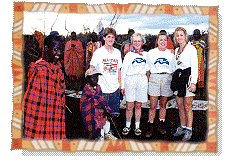 SpaFari in Kenya — hiking and game drive safari.

An Out Of Africa, Walk-Back-In-Time experience with SpaFari's Hiking Safari in Kenya with optional nights at the Indian Ocean. Windup your adventure with water-sports and soft ocean breezes, while relaxing at one of our luxury beach resorts.

SpaFari offers a Kenyan Hiking Safari that is a trip of a lifetime!

Africa's raw edge is softened by the cushioned accommodations of luxury tented camps and the finest hotels and jungle lodges. Our upscale lodge tents are spacious and insect-proof with comfortable beds and bathrooms, and often, swimming pools, Savor delicious healthy meals and candlelit dinners.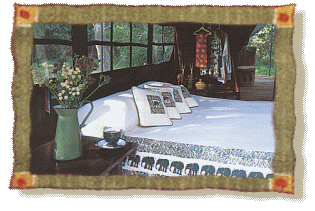 Start your mornings with an early game drive. Wind down your day with stretch classes, and optional massages, while listening to the whispers and songs of the African plains! Highlights of the SpaFari Hiking Safari itinerary include the great Rift Valley where we journey to Lake Naivasha. Upon arrival we take a boat ride to a private island where we walk among the 'gentle' wild animals. While in the Rift Valley, we game drive (seeing the Big Five) and hike the scenic Lake Nakuru National Park which is famous for its hundreds of thousands of flamingo and flocks of pelicans. We spend another day-trip hiking the picturesque Hells Gate and Crater Lake, stopping to visit the home of Joy and George Adamson (Elsa the lion - Born Free movie). After a charter flight to the remote Maasai land we reach the Loita Hills, an area deep in the tribal "Forest of the Lost Child" and sacred to the Maasai. While in the Maasai Mara, the most spectacular game reserve in Kenya, we will be staying at either an upscale tented lodge, or luxury lodge, which includes peaceful gardens, and rock swimming pool.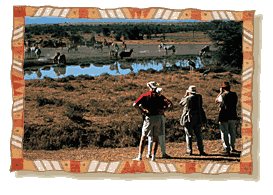 Our hikes winds around to an authentic Maasai village, giving us a glimpse of their age-old customs. The local tribesman and women gift us with a show of throwing skills, dance and song; Jewelry and handy crafts are often put on display. SpaFari has exclusive access to very private areas where we are guided on our breathtaking hikes by proud Maasai tribesmen (in full tribal regalia).

Participate in an optional early morning hot air balloon ride over the African plains. Arising early we begin a pre-dawn safari heading off to the direction of our awaiting balloon. Traveling over the bush our jeep headlights catch the glinting eyes of many animals - stalking and feeding in the dark - the red glow of the half filled balloon in the distance points our direction. We ascend in time to see the sun rise over the mountain tops - and float over our glorious landscape - dropping down in the middle of the wilderness to partake in an elegant breakfast . . . champagne optional!

Following the Maasai Mara, we head off to stay in another unique and comfortable lodge, at the base of Mt. Kenya, climbing part-way up Mt. Kenya along the Sirimon Route, offering spectacular views of Sendeyo and Tereri of the main peaks. Note: A complete climb - which take about 4 days - up to the peak of Mt. Kenya at 18,400ft is also available.

Returning from our partial Mt Kenya trek, we stay at an upscale tented lodge, where we game-drive to visit protected chimps, a pet Rhino and other rare animals. This very special location has been a favorite with many historical figures and celebrities over the years. A stones throw from the boundary from our lodge is a nearby watering hole lures many animals for their evening drink. Days unwind with optional massages and a refreshing swim in the camp swimming pool while looking up to many shooting stars.

Moving off, we fly to Samburu to stay in another unique upscale tented lodge situated by the permanent waters of the Uaso Nyiro River which support an abundance of wildlife, making Samburu one of Kenya's finest hiking and game viewing areas. We visit the Samburu villages, watch their tribal dances and have opportunities to purchase handmade memorabilia. Daily breathtaking hikes on mountains and plains; and game drives, to see Elephant, Leopard, Lion, Reticulated Giraffe, Beisa Oryx, Grevy's Zebra, Gerenuk and Somali Ostrich.

Flying back to Nairobi we have an afternoon at the Nairobi market, optional massages and a farewell dinner at a popular restaurant, followed by our late evening flights home departure.

Indian Ocean options: Join us for a luscious Indian Ocean beach extension. Windup your adventure with water-sports and soft ocean breezes, while relaxing at one of our luxury beach resorts.

Fly to Malindi and transfer to one of our luxury beach resort at Turtle Bay. Activities include snorkeling, diving, boating, and off-shore fishing. With two swimming pools and great food, Hemingways is a wonderful finale to your safari. Luxuriate with hour long massages and long walks on pristine white sandy beaches.

You deserve the very best, and in Kenya we' will ensure you have it.

If this unique adventure-of-a-lifetime is of interest to you, now is a good time to be looking into flight arrangements. Call us to arrange your reservations for this once in a lifetime journey, today. We look forward to seeing you in magnificent Kenya soon!

KENYA Hiking SpaFari
January - February - March - November

Choice Accommodations. After an inspiring day of game viewing, hiking or cultural viewing, recount your tales over a gourmet
feast and glass of wine or beer. Then, slumber in a range of accommodations that match your chosen adventure - from luxury camps
and upscale lodges to rustic tents set deep in the wild.