Red Rock Desert Adventure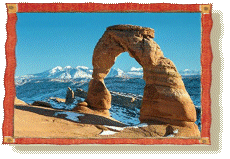 Nestled between Arches and Canyonlands National Parks, Moab, Utah is the gateway to some of the world's most spectacular canyon country. Wind, water, and time have molded the soft sandstone into smooth, thousand-foot canyon walls, teetering spires, and massive arches that leave the viewer in awe. Iron deposits in the rock color it vibrant red contrasting the bright blue skies of Moab's 300 plus sunny days per year. This canyon country offers and abundance of scenic hiking trails replete with enormous views and solitary canyons. Additionally, Moab is justifiably famous for its mountain biking. "Slickrock" formations, technical rock steps, and fast single-track, yield some of the most interesting and challenging mountain bike trails anywhere. Mountain Bike Magazine has named Moab, Utah the "Mountain Biking Capital of the World."
Continuing SpaFari' tradition of offering multi-sport adventure trips, our Moab trip challenges you with a variety of activities. We hike, bike and horseback ride (in April/May we also offer rafting) our way through this pristine desert landscape. Our staff provides for different skill levels among the group to ensure that everyone faces suitable challenges.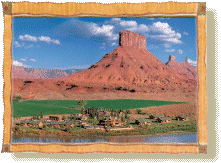 This trip is not all challenge, however. We stay at the luxurious Sorrel River Ranch Resort, which is situated on a green oasis by the Colorado River. The resort offers massage rooms, a fitness center, a swimming pool and spa on the river, and classic southwest-style ranch houses. Guests have described the Sorrel River Ranch as "enchanting," "romantic," and "next to paradise."
As on all Spafari Adventure trips, we begin each day with our special lemon health drink and eat delicious, healthy foods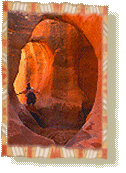 throughout the week. We also greet each day with yoga and meditation; with every other day therapeutic massages. Other activities include a lecture about the ancient Indian civilizations that called this desert home, and an information session with our nutritionist. Optional activities can also include guided technical rock-climbing.
After a week of physical challenge and mental and spiritual reflection in the red rock desert, you will return to your daily life more relaxed, fit, and content.
Fly into Grand Junction airport. SpaFari will pickup at noon on the trip first day.
MOAB, UTAH
7 DAYS, $3,450
Custom Trip Dates - Call (970) 452-9339
Destinations | Schedule & Rates | Q & A | Corporate & Specialty Trips
Food & Lodging | Testimonials | SpaFari Products | Newsletter | Contact Us